2023 marks the 27th instalment of the JAA Awards, which celebrates and recognises design, innovation, craftsmanship and marketability in the jewellery industry.
It is the most distinguished program for the Australian and New Zealand jewellery community and has been the longest running local competition encompassing through 7 categories of Diamond, Coloured Gemstone, Metal, CAD/CAM/CAST, Contemporary and Apprentice.
In a pool of 70 entries, the judges have selected 3 of Artisans Bespoke Jewellers pieces as finalists.
The judges have spoken and now it's your turn! Vote for Artisans Bespoke Jewellers to win People's Choice!

---
D01 – 'Amelia' by Tammy & Kathy
Handmade in 18ct White Gold an Art Deco Wing Insignia characterises a unique tribute to Aviation Pioneer – Amelia Earhart, the first woman to fly non-stop solo across the Atlantic Ocean.

With innovation at the forefront, Amelia is a transitional piece providing an appealing, new offering to the Jewellery Market.

With a metaphorical sky as the limit, a technical challenge presented itself that would require meticulous attention to detail. Traditional Goldsmithing techniques exhibit a level of expertise that provide an assurance of fine quality and longevity.

Central to the design is a 2.02ct Princess Cut Diamond and 0.51ct Kite Cut Diamond which are adorned with an assortment of small Round Brilliant and Princess Cut Diamonds totalling 4.29ct.
TDW=6.82ct Natural Diamonds.

With a bold wing design, detachable Diamond set Chain and Pendant – Amelia transcends the nature of Jewellery.

"I have often said that the lure of flying is the lure of beauty" – Amelia Earhart
---
C12 – 'Juliet Rose' by Hazel
Juliet Rose is named after the 'sweet Juliet' – the rarest rose in the world. I wanted to create a delicate yet impactful bouquet, symbolising both beauty and strength. I was inspired by the natural harmony of the rose bush, as well as the careful curation of the wedding bouquet.

Handmade in 18ct White and Rose Gold, this ring was made with the intention of being worn on the centre of the hand. The uniqueness of the carved 6.75ct pink tourmaline made it the perfect centrepiece. I created the cluster shapes of the leaves using tsavorite garnets with the peach sapphires and spinels as the blossoming rosebuds. The underside represents stem and leaves, recreating the 3D element of the natural rosebush. Fine jewellery has a rich history of drawing inspiration from nature, a tradition I wanted to celebrate with Juliet Rose.
---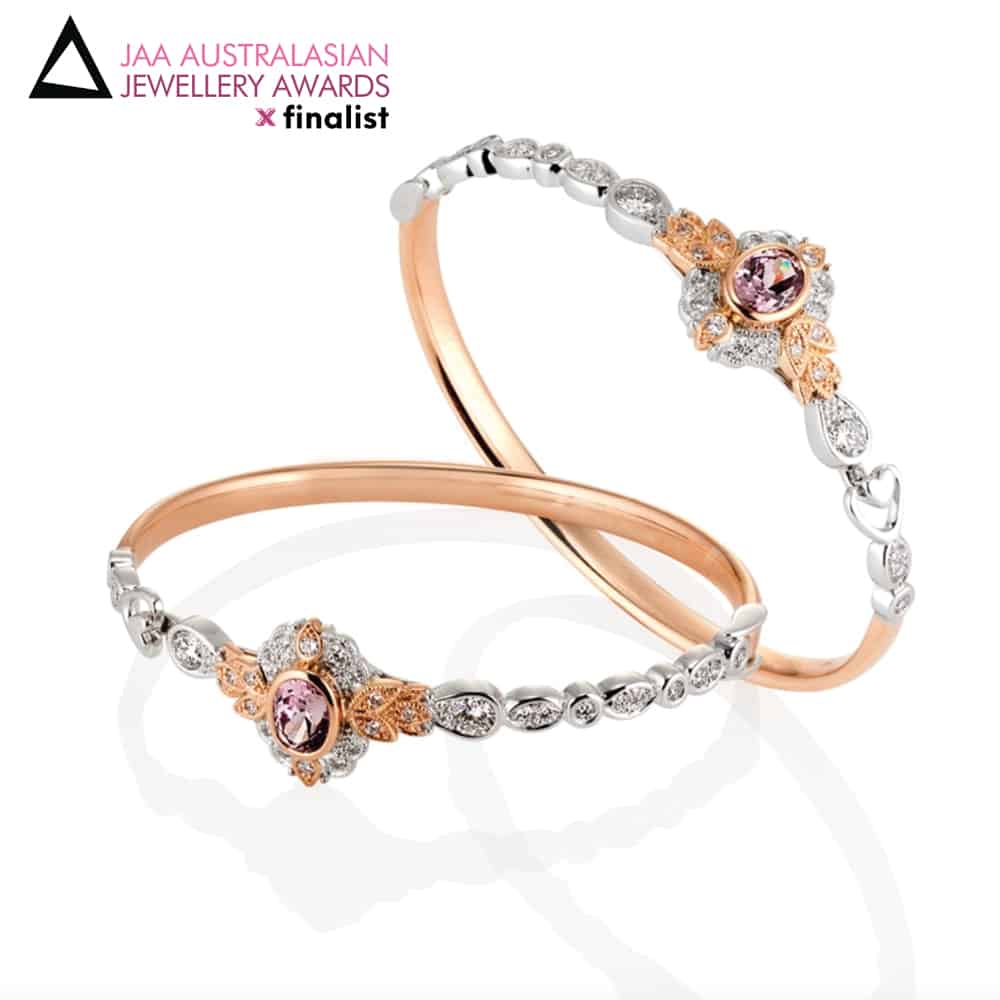 A08 – 'Ode to Olivia' by Louis

This bespoke bangle was handmade for my fiancé Olivia. The bangle design was inspired by the Art Deco period and features an Oval 1.42ct Pink Spinel set within a Diamond floral halo arrangement with millgrain accents. Over 1.00ct worth of natural Diamonds are bezel set in round and marquise patterns along with a handmade heart-shaped hook and eye style clasp. The side of the bangle is personalised with small family initials O, L, S and a love heart symbol representing a future family member. This is my Ode to Olivia.
---

---
Meet the Judges for the JAA Australasian Jewellery Awards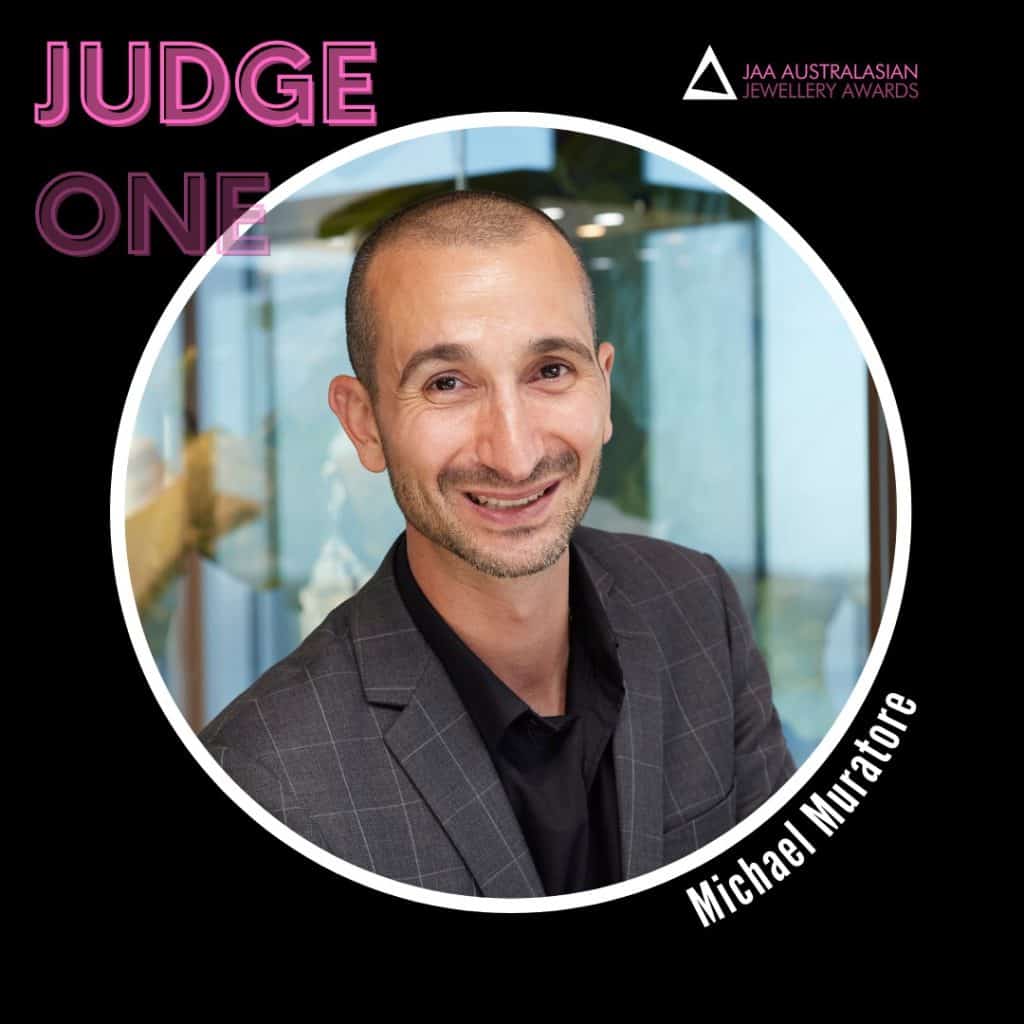 Judge One: Michael Muratore
At the age of 15, Michael embarked on his journey to become a jeweller by obtaining an apprenticeship. Combined with his studies in jewellery manufacturing, the apprenticeship allowed him to develop his skills in the art of handmade jewellery. Quickly taking a passion to the industry, Michael sought out to be trained and mentored by some of the best jewellers and diamond setters in the country. For over 23 years, he has strived to perfect every element of his craft. From alloying the precious metal and faceting precision cut gemstones to hand fabrication and setting Michael has mastered every element of the manufacturing process so he can take a piece from concept to final finish without it leaving his studio.
---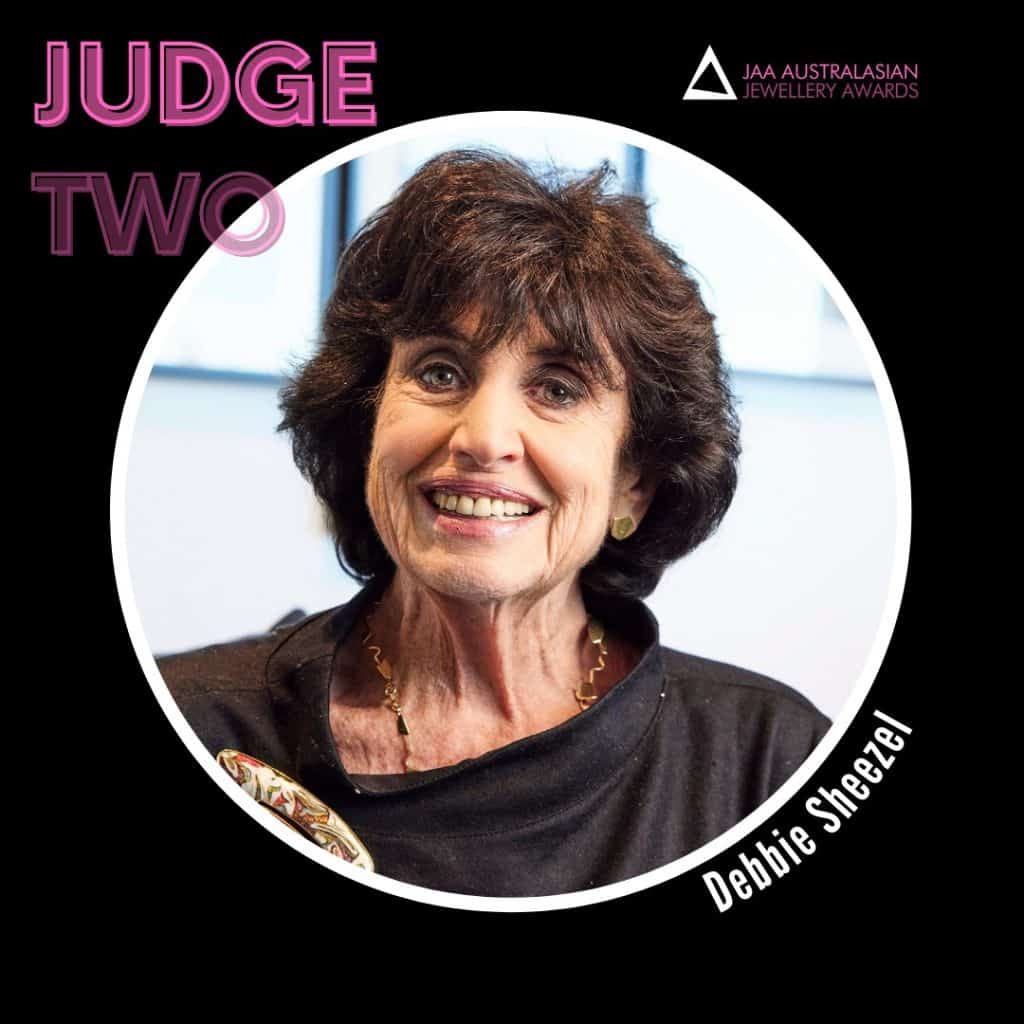 Judge Two: Debbie Sheezel
Beginning her career in 1964 as an artist, Debbie Sheezel has gone on to become an international Award winning jeweller for her incredible work featuring enamel. Debbie was awarded first prize in the enamel category of the USA Saul Bell Design Award in 2016 and went on to be invited as a judge in 2017. Then in 2019, Debbie was awarded the highest honour of Best in Show. She has long been associated with RMIT Melbourne and has returned for many years to lecture on enamel jewellery. In 2023, the Gold and Silversmiths Guild of Australia awarded Debbie the Tony Kean Award for her service to the Australian Jewellery Industry.
---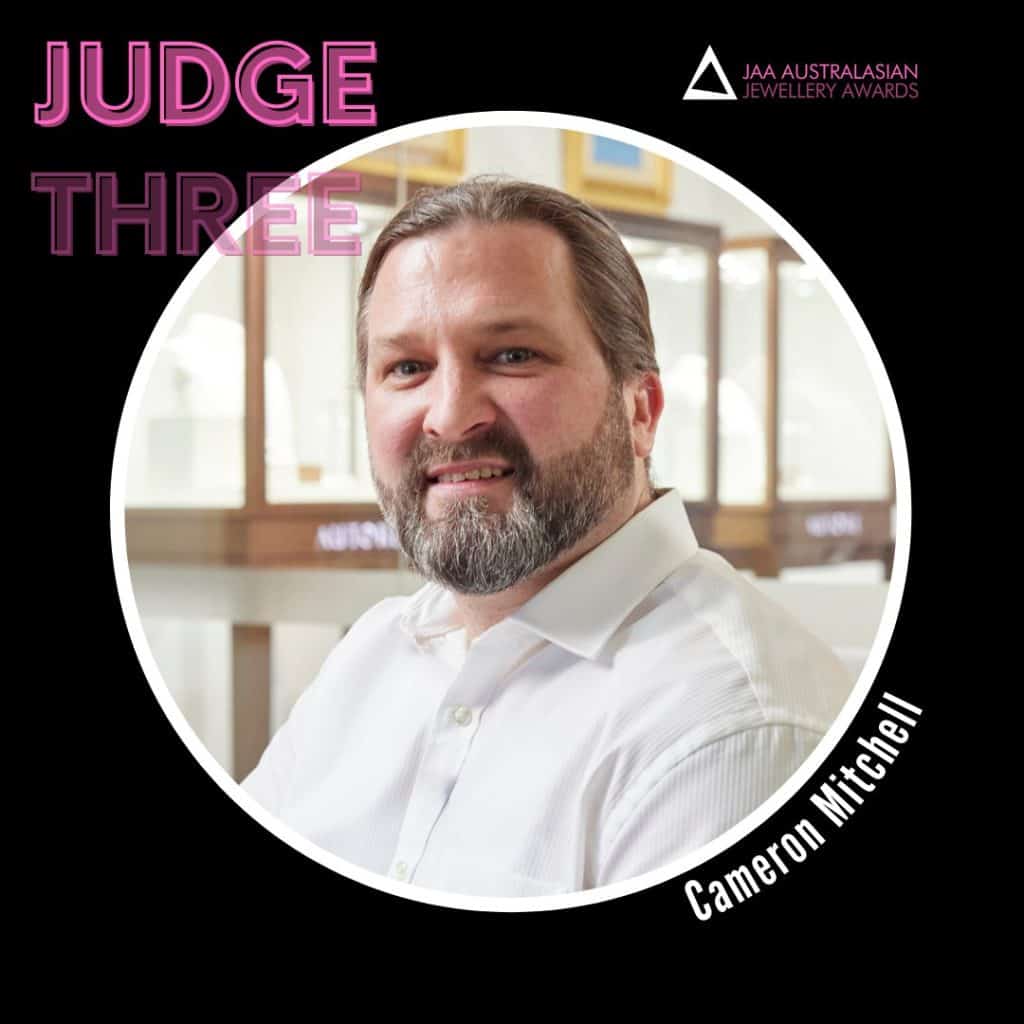 Judge Three: Cameron Mitchell
With more than two decades of experience in the industry, Cameron Mitchell is a seasoned Production Manager at Autore Pearls. His extensive and varied expertise encompasses both the pearl and jewellery aspects of the business. Throughout Cameron's career, he has collaborated with many local and international jewellery workshops to curate award-winning South Sea Pearl jewellery collections.