I absolutely love having things to look forward to! When I heard the news that Brisbane would be hosting the 2032 Olympics, I was pretty darn excited to say the least! The buzz around Brisbane was electric in the days after the announcement – which sadly feels like a bit of a long time ago now. As a community, let us all remain focused on staying safe and follow the COVID health advice. If we all do the right thing we can once again resume looking forward to our Brisbane Olympics, to which a dear little friend squealed to me "Its only in 4020 days time Tammy!"
Having things to look forward to has been a bit of a belief system of mine for many years. This in its simplest form has been my morning coffee with friends. "Double Shot Latte Please", but for me the magic happens before the coffee even hits my lips. For me, it is the experience of being at one of my favourite Paddington Cafes and the anticipation of who I might get to see at the beginning of my day – that is the true joy for me!
For those of you who will be visiting our boutique in Paddington, I encourage you to support small business and make a day of it! Embark on a leisurely stroll along our winding roads full of Queenslander charm and some of the best views of the Brisbane, enjoy a delicious breakfast (or brunch?) and immerse yourself in the handmade goods and produce by the locals.
For over 15 years now I have followed my morning coffee with looking forward to getting to work. I am extremely happy to be able to say that I love what I do and I look forward to being at work with my amazing team. Keeping age-old hand making traditions alive fills me with pride. We truly are an exceptional handmade jewellery business with coloured gemstones continuing to captivate our team of designers – with a plethora of choice available, the options are endless!
August happens to be the birthstone month of one of our favourite gemstones, Spinels!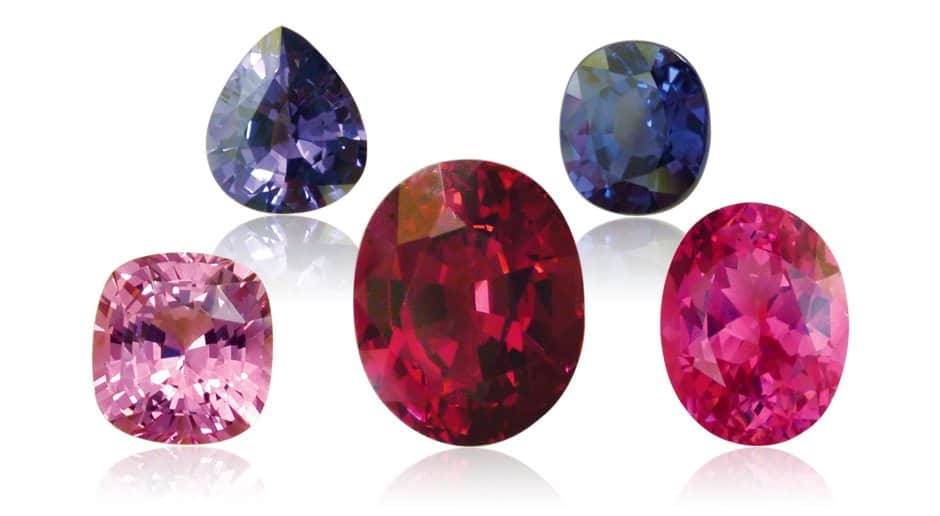 Spinels are so underrated, but they utterly brighten rooms, brilliantly harmonise with other gemstones and when given the opportunity to they spectacularly form the basis for many of our Artisans Bespoke Designs! Where do I begin? I have so much to tell you about superstar Spinels! Known to be mistaken for Rubies and Sapphires for generations, Spinels are now appreciated for their stunning natural brilliance and array of colours. From very deep tones, through to the prettiest of pastels, colours can include red, blue, pink, lavender, purple and black. The Spinel is truly a coloured gemstone that simply must be viewed in person, the colours are distinct, often described as metallic, definite conversation starters with personality to boot! Red Spinel as previously mentioned can look very similar to Ruby, however and here is the interesting part. Spinel can often outshine Ruby, having a stronger lustre (light that reflects from the gems surface) and brilliance (the light that reflects from the gems interior). A touch of pink is usually present in Red Spinel, so if you are seeking a really dark red stone, it is best to stick with the classic Ruby.
The rarity of Spinel is a clear reason why they take pride of place in so many of our original Artisan Bespoke Designs. Spinels carry a variety of colours that vary so much between different light sources. This makes it difficult to buy Spinels in bulk that are of high quality – therefore making it almost impossible for Jewellery Chain stores to consider utilising them in their mass-produced designs. Spinel is celebrated throughout the highly sought-after Artisans Bespoke Jewellers range. We take pride in hand selecting gems to suit our clients' jewellery design visions.
The possibilities with Spinel are endless and I would absolutely love for you to come in and see in person the reason why Spinel is one of my favourite gemstones. As previously mentioned, it is so very important to have things to look forward to. May you and your family stay well, and I look forward to welcoming you into our boutique very soon!