Our most remarkable Borboleta Necklace, testament to the design and technical abilities of the Artisans Bespoke Jewellers Team, is a wonderment of natural coloured gemstones and jewellery manufacturing. Magical diamond encrusted Butterflies float amongst boldly coloured gemstones of fancy. Sapphire, Spinel, Garnet and Tanzanite create glorious clusters of colour, a delicious and original feast for the eyes. A soiree of scrollwork and Art Deco highlights abound Borboleta.
Featuring a striking 2.91ct pear shaped Mandarin Garnet, the Borboleta Ring is a kaleidoscope of coloured gems. Forming a striking cluster around one side of the pear Mandarin Garnet is a fun and vibrant array of gemstones including Spinels, Sapphires, Garnets and Diamonds. White Gold delicately highlight this beautiful cluster, symbolising precious butterfly wings.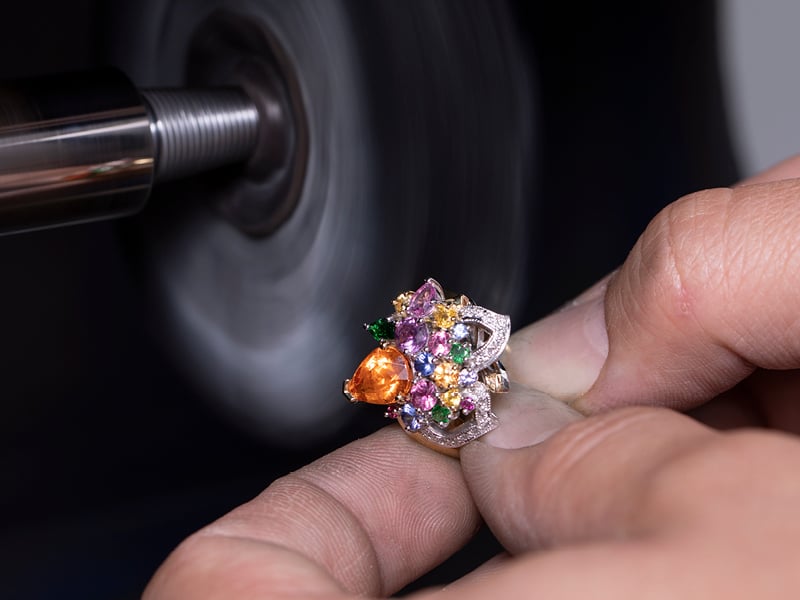 The Borboleta Earrings feature a cascading cluster of bodacious colour. An extraordinary combination of eleven coloured gemstones featuring Spinels, Sapphires and Garnets brilliantly flowing towards the delicate Butterflies perched playfully at the bottom.