At Artisans Bespoke Jewellers we are so fortunate to be a part of our client's special moments in life. Recently, we had the pleasure of remodelling a bespoke Aquamarine and Diamond Engagement ring for Jenny and Mick after it had been through a series of unfortunate events.
In this blog article, we deep dive into the perspectives from our team as well as Jenny and Mick's.
Here is the incredible before and after comparison of the ring. You can certainly see the difference, even from afar.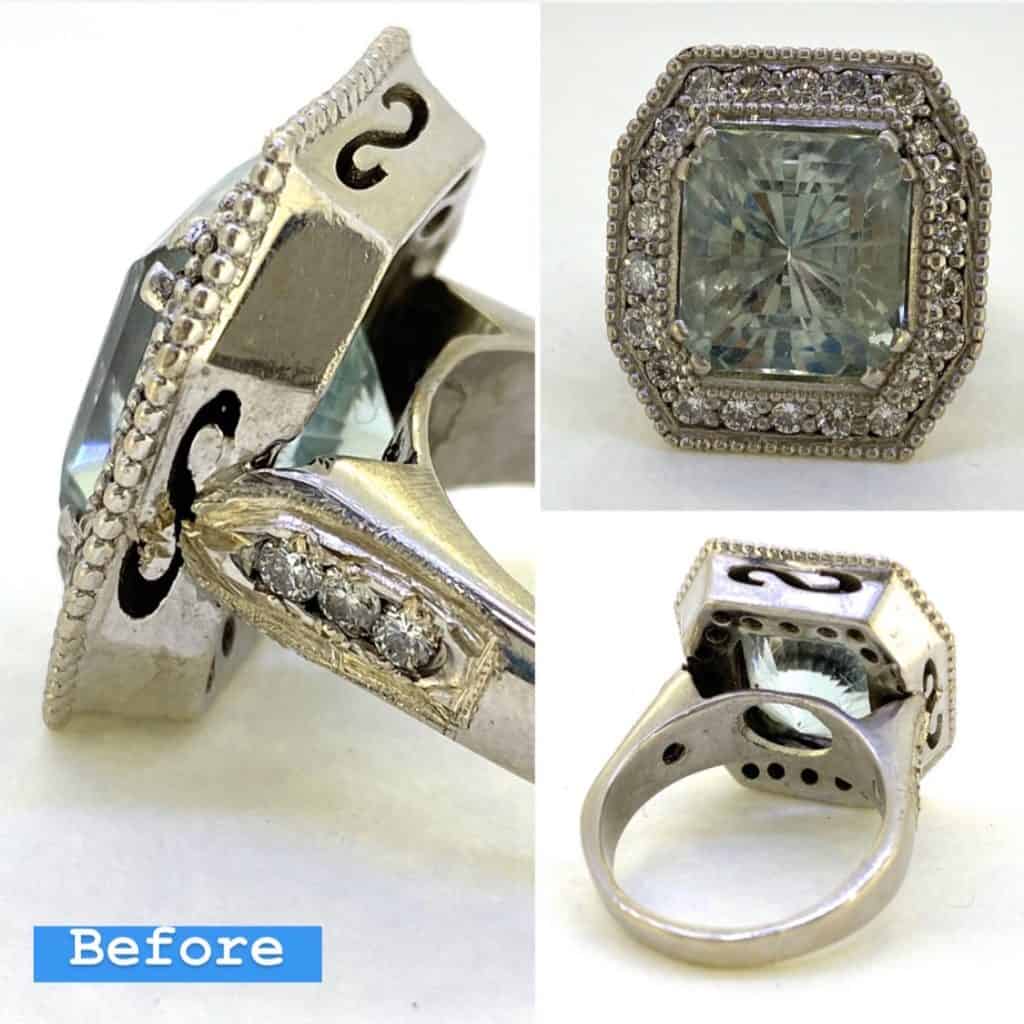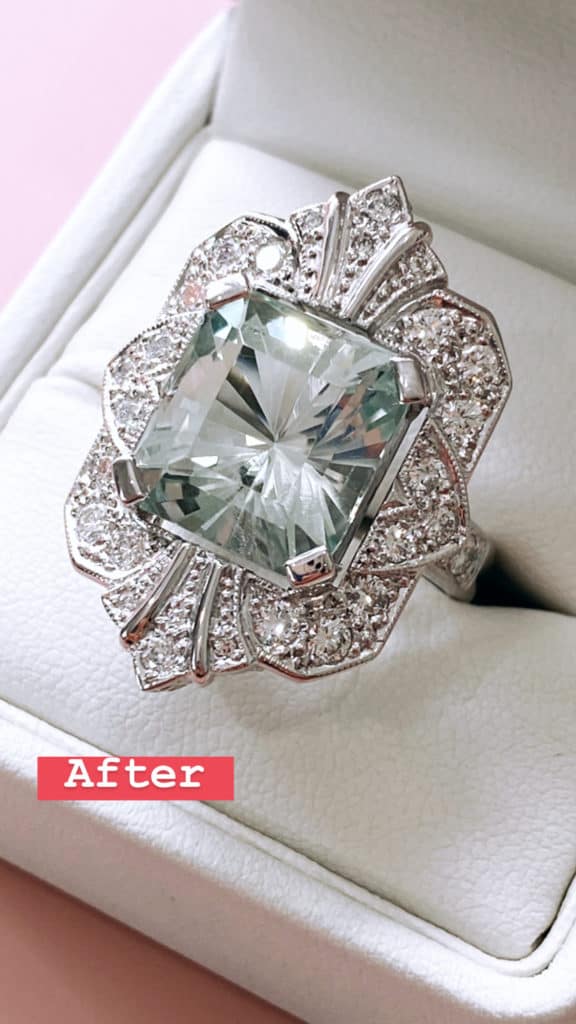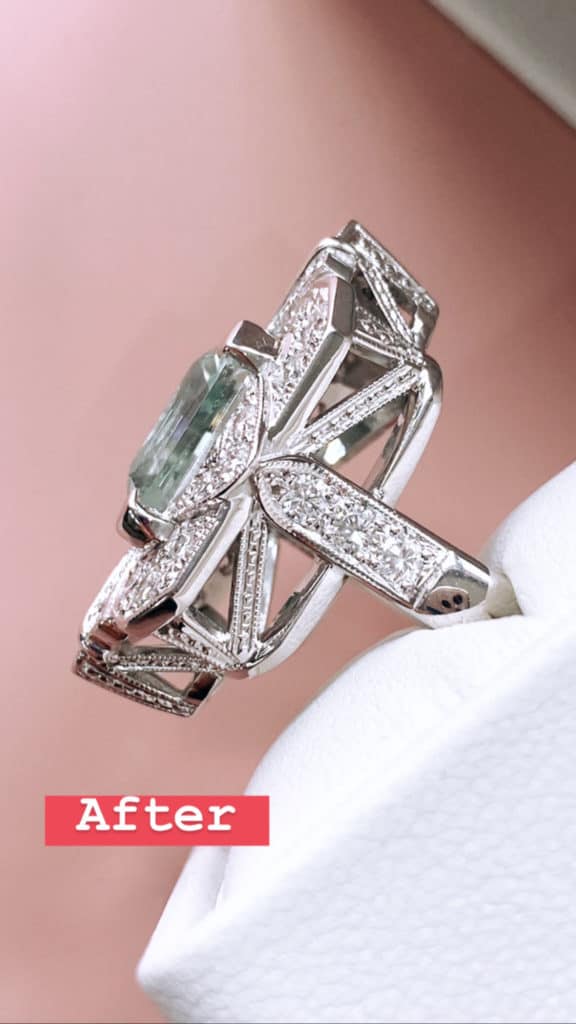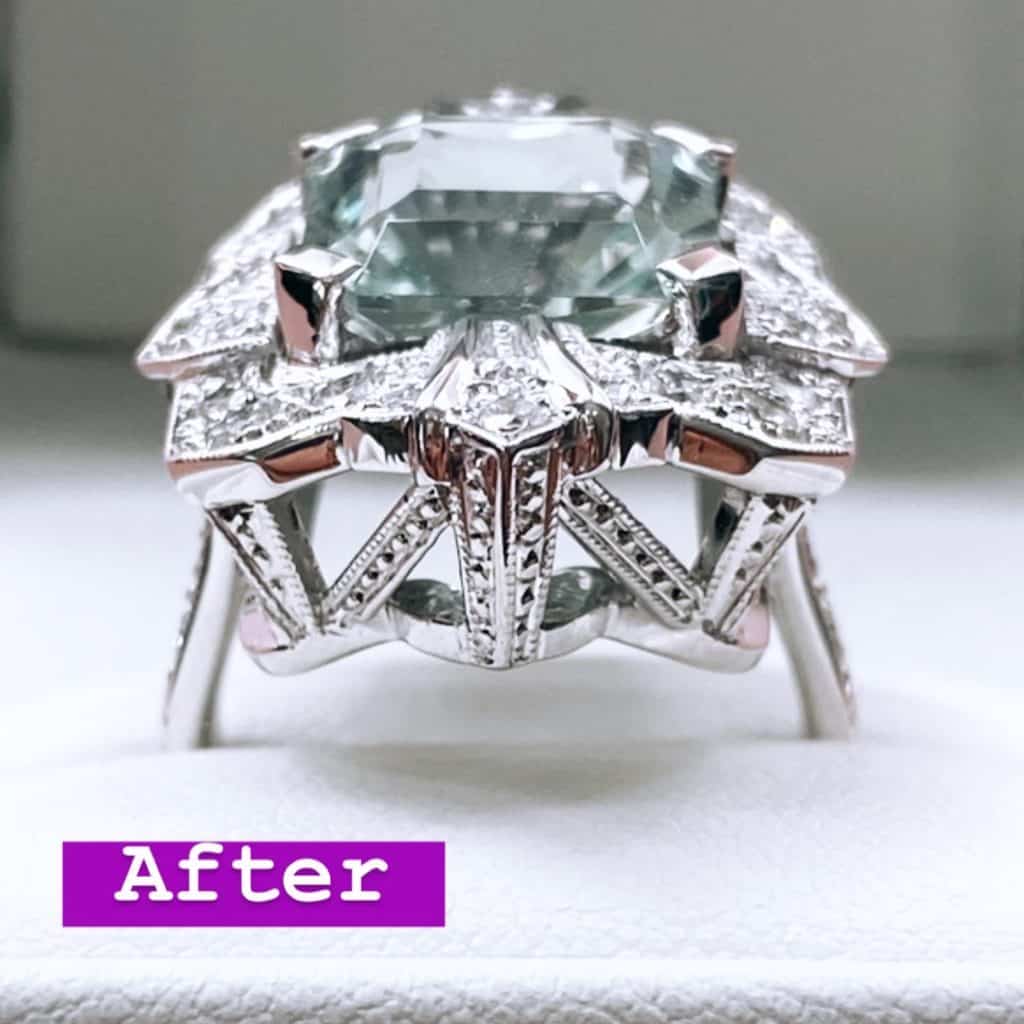 When we received the ring, our in-house Gemologist and Valuer assessed the ring in it's entirety to give our clients a better understanding of what we were working with and some of his observations are noted below;
The rings construction is a computer designed and wax printed casting with stones then set in the piece. The casting is poorly cleaned up with a lot of print lines visible both inside the head and on the outside. The cluster surround has growth lines visible all around all stones. The shank has a preformed seat for the head to sit on but the head has not been fitted correctly and is soldered on crooked.
The centre stone is set on a lean and is loose.
One of the diamonds is broken. On loupe inspection it appears that the shoulders were originally channel set and then cut up and grains were attempted to be raised so as to give a grain set appearance. The cutting and setting of the shoulders is very poorly and and is of an extremely poor standard.
The bright cutting of the gold looks more like gouge lines and is of an inferior and extremely poor standard.
There are numerous slip and cut lines that have ended on the side of the cluster head and again detract from the finish.
Obviously, the ring had gone through a series of repairs and left in a state where Jenny said her engagement ring was 'unwearable', but after visiting us for a jewellery design consultation, we have been able to remodel her ring into a spectacular engagement ring that she is now proud to wear. The amount of love that has gone into each and every detail of this ring is absolutely unsurpassed.
Hazel was the lead designer behind Jenny's engagement ring remodel design. Read her perspective on the design process below;
It was such a pleasure designing Mick and Jenny's engagement ring!
Here at Artisans Bespoke Jewellers we love creating big and beautiful statement pieces so it is always exciting to be given a design brief like Jenny and Micks. To start, we looked at design styles and picked out a few examples from our range of ready made pieces that Jenny liked. From there, we expanded on these ideas tailoring them to suit Jenny's beautiful Aquamarine gemstone and coming up with flairs and flourishes to make it truly bespoke and personalised to her. This design style is one of my favourites – geometric and Art Deco but with soft, feminine touches. Very old world glamour!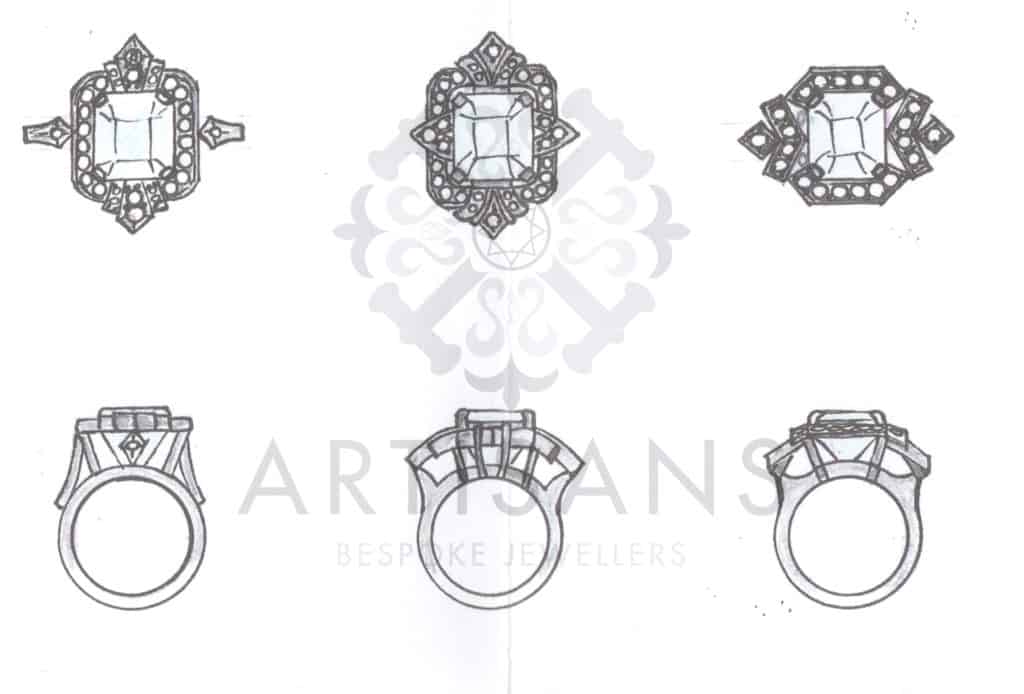 Brian and I then drew up five design options, all based on the style that Jenny and Mick liked featuring their aquamarine and diamonds. Jenny and Mick then picked their favourite and after finalising the finer details and making sure everything was perfect, it was ready to go into the workshop!
The unique pattern underneath the aquamarine was hand made by our jewellers to compliment the geometric nature of the ring. I think they did a wonderful job! As well as re-designing the ring we also assessed the materials and found that the aquamarine had a few scratches and chips. We re-cut and polished the top of the gemstone which made it bright and sparkly again.
We had a lot of fun during the entire process. Thank you Jenny and Mick for giving us the opportunity to handmake your beautiful engagement ring ❤️
Jenny, the lucky owner of this remodelled Aquamarine Engagement Ring was kind enough to allow us to share
their story below;
"Mick and I were engaged in 2003. How could I say anything but a big "Yes!" as he placed a beautiful 7.50ct aquamarine gemstone set in white gold surrounded with diamonds, on my engagement ring finger. We were married on February of 2005. On this day Mick placed a simple white gold and diamond band, on my wedding ring finger. Mick had planned ahead, knowing that down the track when our first child would be born, he once again would gift me a second white gold and diamond ring, commonly known as the eternity ring.
In 2008 our first son was born. Alas, I was now wearing three rings all with special meaning.
As our lives became busier and careers changed, I spoke with Mick about combining all three rings into one.
We took the three rings into a local Jeweller. The ring was redesigned between the three of us. The white gold was melted down and rebuilt with the existing stones.
The newly rebuilt ring was pretty at first to the naked eye, but over time we had a few reoccurring issues. A couple of claws snapped off, after one resize I couldn't wear the ring. After the second ring resize, a diamond from the band fell out and another had been chipped during the resize process. Upon taking my ring back to the same Jeweller, this last repair attempt had ended in disaster! The result was a ring that was now of less monetary value, let alone the emotional roller coaster of the item that holds the most sentimental value was now officially unwearable. I asked two other local jewellers if they could help me, but they had openly and honestly told me that they were not able to or did not have the correct tools to complete such a job. They too were sorry about how my ring had ended up in this state.
I had written my ring off, thinking it was too big of a job for any Jeweller and that it would cost way too much to fix.
Soon after, I was speaking with my Sister-in-law who lives in Brisbane. I have always admired her stunning hand made engagement ring.
Sara said again and again, "You have got to take it to Tammy at Artisans. They do such amazing work".
Since my ring was in the drawer, I decided to take her advice.
I phoned Artisans Bespoke Jewellers in Brisbane and gave them the full story. After speaking to Tammy, not only did I feel a lot more positive, but rather refreshed about the entire Jewellery Industry and my ring.
Shortly after, I was heading down to Brisbane so I booked an appointment to meet with Brian, one of the Jewellers (and also a Gemmologist) to discus if anything could be done.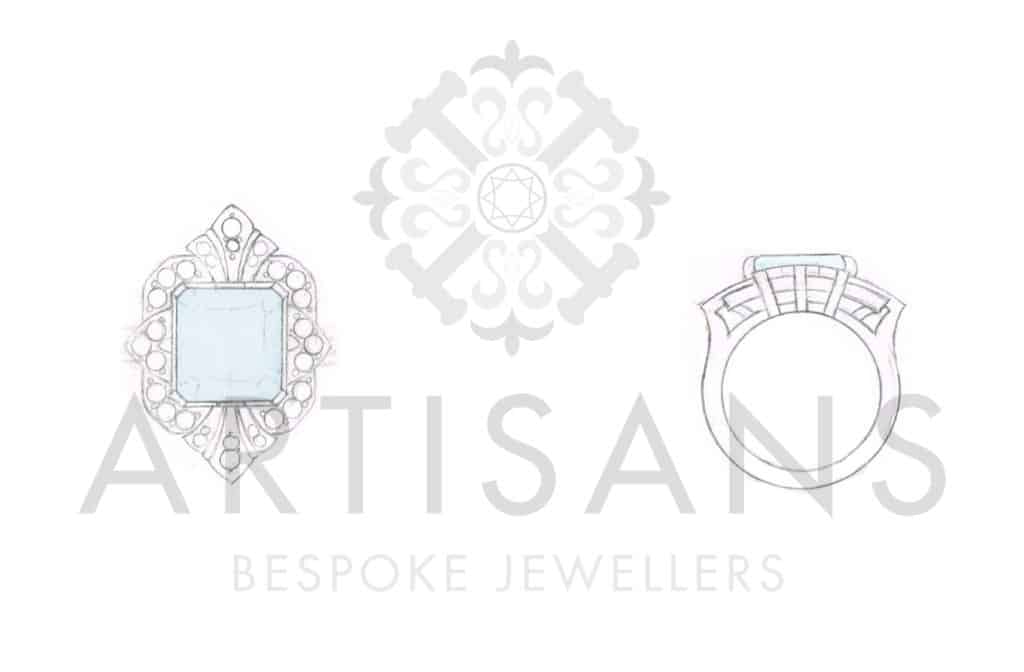 Over the coming weeks, Mick and I had met with Brian, Tammy, Olivia and Hazel. We noticed that the entire team at Artisans work very closely and their communication is impeccable. One of the best things about Artisans is that it doesn't matter where you live in the world, they can design over email, phone and video link you to show and discuss every single detail about your piece of jewellery. I had absolute faith in the team and was looking forward to the very last and final rebuild of my ring.
When the ring was finished, it was posted securely to Mick and I in Darwin.
Mick proposed again with an updated, modern version of the aquamarine engagement ring and we were both gobsmacked at the ring. We both paused for a few seconds as we opened the little white box together, dazzled by this handmade sparkling piece of artwork. Absolutely stunning!
As Mick placed the statement piece on my wedding ring finger, I felt like this ring should have been in the Royal family's jewel cabinet, not on my finger!
We are both humbled and forever grateful for the detailed work, communication, care and skill that the entire team at Artisan Bespoke Jewellers brought to the table.
Mick and I absolutely adore this new ring and not only do I have pride again in wearing my engagement ring, but I am more than happy that this entire experience had a happy ending, thanks to Tammy and her incredible team."
---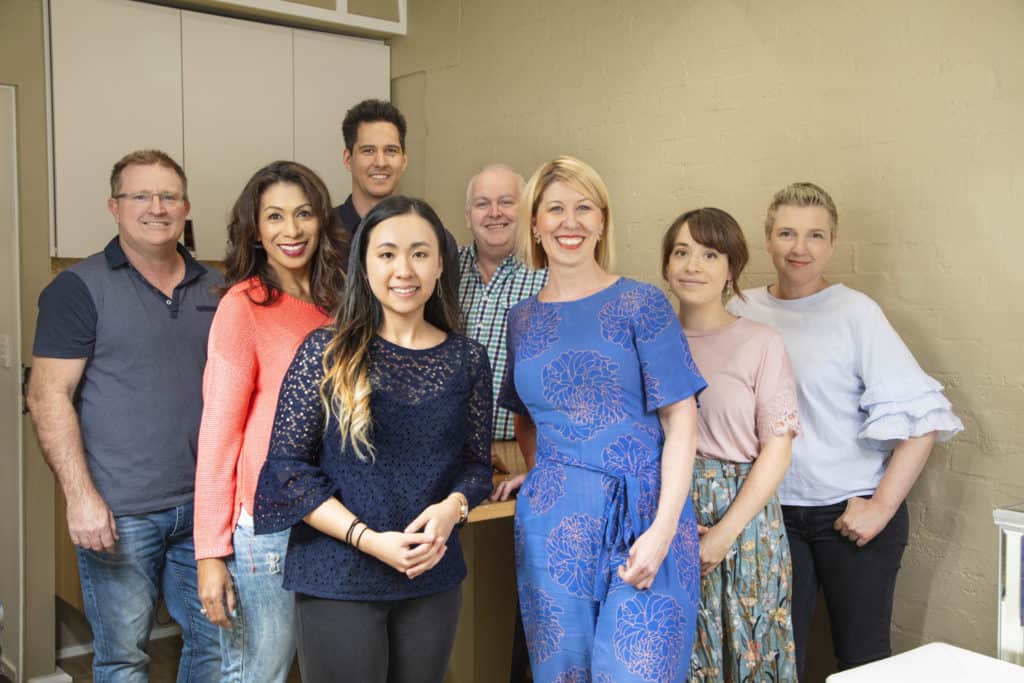 Do you have a piece of sentimental jewellery that needs remodelling?

Contact Artisans Bespoke Jewellers to book your jewellery design consultation today!