Is it worth investing in a brand name piece of jewellery?
Many buyers commonly think that purchasing jewellery from a brand name means that the quality and design of the piece will amount to the money invested. Unfortunately, this is not always the case.
Purchasing jewellery from an international brand name could lead to costly and lengthy repair and maintenance fees. For instance, we recently met with a client who had diamonds that had fallen out of her ring. When she took it back to the brand, they quoted a high amount for the repair work and the repair was drawn out over a period of 3 months as they waited for diamonds to come in from overseas.
Our client was not happy with this service and or the lack of quality in their ring, so they entrusted Artisans Bespoke Jewellers to provide a solution.
The piece was manufacturing using CAD and cast technique. Read more about the difference between handmade jewellery and why we think it is superior to cast made jewellery.
Strangely, each of the diamonds in the ring varied in size from 2.98 – 3.20mm. This only increased the chances of another diamond falling out in the future.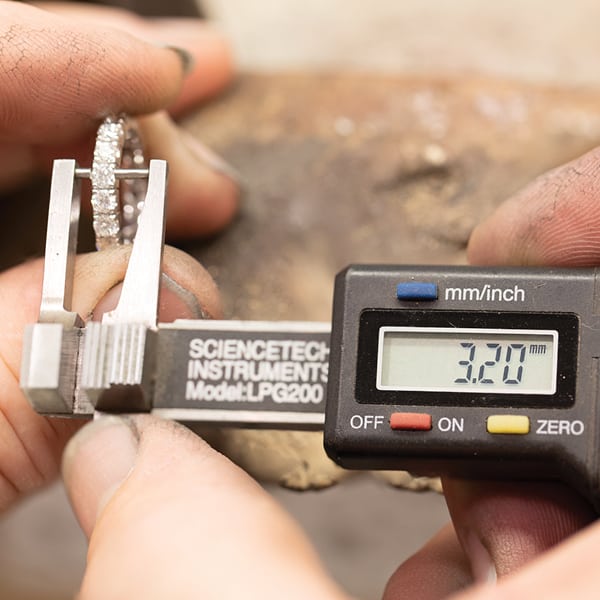 Since the client liked the style of the ring and did not want to significantly invest more time and money. Tammy advised to hand make an exact copy of the ring, using the existing diamonds, but to increase the ring dimensions by 10% to help give the ring structural integrity.
The additional materials ensured that another diamond would not fall out with general everyday wear.
---
If you are considering buying jewellery from a brand name or own a brand name piece that requires repairs, please book a design consultation with Artisans Bespoke Jewellers first to see what handmade options are available to you.